There was no shortage of elaborate details in the form of intricate embellishments, opulent beading and floral appliques in the fall/winter bridal collections, but the beauty of these were challenged by just as many clean designs, classic silhouettes and strong architectural forms. These two contrasting looks juxtaposed on the runways, one taking advantage of maximal tendencies and the other imbuing modern minimalism. So is less really more, or is more actually more? Our verdict — both are equally beautiful, depending on your taste and style.
Maximalism
If your wedding has a romantic, whimsical, glam or vintage feel, this season's ribbon-work, delicate embroidery, extensive beading, playful textures, and layered fabrics are worth swooning over. Victorian looks, complete with a stronghold of laces and textural appliques, heralded romance from the 19th century. Laces also made an appearance in more contemporary silhouettes and in varying textures, such as macramé and embroidered lace, lending gowns an added dimension, as did floral embellishments. Bling came in both understated and extravagant, somehow looking effortless either way, whether donning a dress in all-over crystals or adding a subtle shimmer with a hint of sequins. And whether in the form of ruffles, fringe, rosettes, or cascading layers, tiers brought drama and flair to many a dress. Although the look was popular, each style offered its own fresh take, from airy princess ballgown to mermaid fits with Flamenco vibes to luxe boho column shapes. No matter the maximal style, the result always emitted an easy vivacity without being overdone.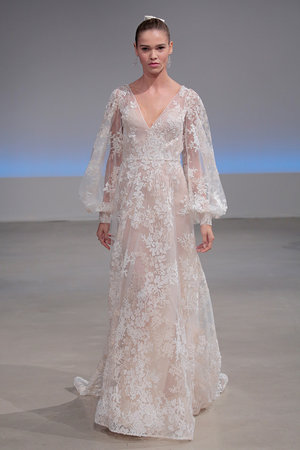 Minimalism
If you could describe your wedding as classic, chic, traditional, or modern, this season also brought back the basics for a timeless style. On the other end of exaggerated opulence, simplicity found its calling in crisp columns, slip-inspired dresses, and sparse detailing. Despite the spare looks, minimal designs surprisingly left behind all restrictions and showed up in a range of aesthetics, whether Parisian chic or reserved and conventional. The unadorned dress allowed other features to shine, such as a flounced sleeve or cut-out waistline. Mod shapes in the form of shifts and minis allow brides to bring out their inner Mia Farrow, providing the perfect excuse to show off a bit of leg. Structured bows popped up on dresses in the most unexpected of places, often serving as the focal point of an otherwise simple silhouette. The pantsuit and jumpsuit trend also remained strong, carrying over from spring's collections. The trouser certainly knows how to maintain a classic silhouette. As with the simpler dresses, these too came in a range of selection to best suit varying personal styles.